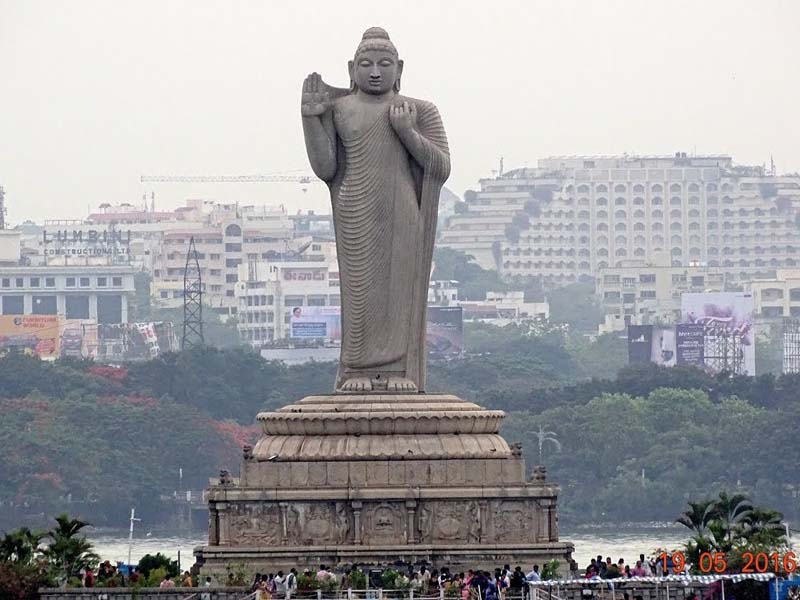 Tank Bund
Tank Bund also makes for an interesting place to visit in Hyderabad. Tank Bund road connects the two parts of the city Hyderabad and Secunderabad
Tank Bund also makes for an interesting place to visit in Hyderabad. Tank Bund road connects the two parts of the city Hyderabad and Secunderabad.
It also dams one of the most popular sightseeing places of Hyderabad, Hussain Sagar Lake, which has the famous monolith of Gautam Buddha in the middle.
This statue is said to be one of the largest monolith in the world. Breathtaking view of Hussain Sagar Lake from Tank Bund is breathtaking which also attracts many to the place. It is spectacular especially in night, when the lights around the statue are switched on.
The place is popular for 33 bronze statues of famous people of Andhra Pradesh and Telangana in the area around. Some of these sculpture are of Sri Krishnadevaraya, Nannaya, Tikkana, Yerrapragada,Annamayya, Alluri Seetharama Raju, Raghupathi Venkataratnam Naidu, Molla, Tripuraneni Ramaswamy Chowdary etc.
These statues were created in the memory of a few prominent personalities of the state including many renowned poets from Telugu literature, great writers, rulers, social workers and freedom fighters.
These statues were erected by the former chief minister N.T. Rama Rao during 1987-88. Earlier the tank bund road used to be quite narrow and was widened in 1946. Later the place was beautified with the addition of many captivating statues and lush green gardens.
Contact Information
Hussain Sagar, Khairtabad, Hyderabad, Telangana 500082
Contact Listings Owner Form